Healthy Sustainable Lifestyle
Harvest Recipes
November is the month of the year meant for loved ones to get together and enjoy the harvest of their labors. It is a time to stop and think about all the many blessings that you have and to be thankful.
Enjoy,
David Proctor
From Seed To Fork, Egg To Plate.
We may not live on a farm, but we can grow where we live.
---
Harvest Recipes
                                    by David Proctor
---
November 19, 2015
Urban Farm Lifestyle Magazine    Published Weekly
---
We all enjoy gathering together, especially when good food is involved.  I would like to share some recipes that I think you will really enjoy.
The first recipe is by Laurie Calloway.
I am not certain of this, but I think almost everyone has that "go-to" cookbook…the one that always seems to have the recipe you want, and the ones you fall back on over and over again.
For me, that cookbook is a now-falling-apart-used–forever book that has the comfort and stability of a favorite worn sweatshirt.
Just out of college, I bought it many years ago, and although I own more cookbooks than should be legal, I always come back to it. It is the American International Encyclopedic Cookbook, copyright 1972, (which was several years before I purchased it, and why it was on the reduced table, I guess.)
At any rate, there are two recipes for apple bread in it, but I prefer this one. The only change I made was to substitute the coconut oil for shortening.
Coconut oil can easily be substituted for shortening, or even butter in many recipes, in the same amount as what is specified. However, do check or experiment before preparing something for a special dinner or bake sale, etc.
In cookie recipes, the coconut oil may cause the cookies to spread and flatten out, for example. But, for most breads and cakes, the substitution works well.
As with any recipe, you can put your own twist on this by adding dried raisins or fruit, just coat them in a bit of flour before adding to the batter, though, to keep them from sinking, or substituting brown sugar or honey for white granulated.
Apple Bread
½ cup coconut oil
2/3 cups sugar (I imagine brown sugar can be substituted for white, but I have not tried this yet.)
2 eggs, beaten
1 cup ground unpeeled apples (I peel them, and grind in the blender)
2 cups sifted enriched flour
1 teaspoon baking powder
1 teaspoon baking soda
½ teaspoon salt
¼ cup chopped nuts (walnuts or pecans both work well…I use ½ cup)
Add…1 1/2 teaspoons apple pie spice (optional) ….to the ingredients
Cream coconut oil and sugar together.  Blend in beaten eggs and ground apples. Stir in mixed and sifted dry ingredients. Blend in nuts.
Pour batter into greased loaf pan (8×4 inches) Bake in moderate oven, 350 degrees for 55 to 60 minutes. Makes one loaf.  Happy Baking!
---
The next recipe is butternut squash soup from   http://www.gimmesomeoven.com/slow-cooker-butternut-squash-soup-recipe/
SLOW COOKER BUTTERNUT SQUASH SOUP
Stir in some coconut milk to make it nice and creamy…
…then serve it up!
Enjoy!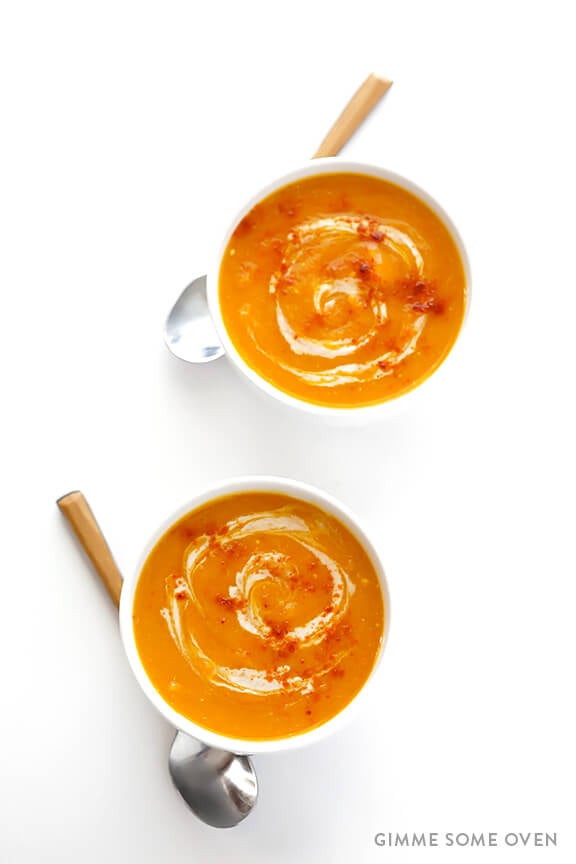 SLOW COOKER BUTTERNUT SQUASH SOUP
This slow cooker butternut soup is rich, creamy, and full of delicious butternut flavor. It's also naturally vegan and gluten-free.
INGREDIENTS:
2 cups vegetable stock
2 cloves garlic, peeled and minced
1 carrot, peeled and diced
1 Granny Smith apple, cored and diced
1 medium (uncooked) butternut squash, peeled, seeded and diced
1 sprig fresh sage
1 white onion, diced
1/2 teaspoon salt, or more to taste
1/4 teaspoon freshly-ground black pepper, or more to taste
1/8 teaspoon cayenne, or more to taste
pinch of ground cinnamon and nutmeg
1/2 cup canned coconut milk
(optional garnishes: extra coconut milk and cayenne)
DIRECTIONS:
Add vegetable stock, garlic, carrot, apple, butternut squash, sage, onion, salt, pepper, cayenne, cinnamon and nutmeg to a slow cooker.  Toss to combine.
Cook for 6-8 hours on low, or 3-4 hours on high, or until the squash is completely tender and mashes easily with a fork.  Stir in the coconut milk.
Use an immersion blender to puree the soup until smooth.  (Or you can transfer the soup in two batches into a traditional blender, and puree until smooth, being very careful when working with the hot liquid.)  Taste, and season with additional salt, pepper and cayenne if needed.
Serve warm, with optional garnishes if desired.
If you make this recipe, be sure to snap a photo and hashtag it #GIMMESOMEOVEN. I'd love to see what you cook!
---
This recipe I would like to share is for a tomato pie by Laurie Calloway.  I hope you get a chance to tryout these recipes.  Enjoy and share.
Tomato Pie
Recipe by Laurie Calloway
It has been, for the most part, a warm November. I still have tomato plants that are producing, and the indeterminate varieties will continue to do so until the first killing frost.  In the meantime, here is one way we enjoy all the extra abundance of the tomatoes.  Tomato pie! Not a sweet desert, but a savory side dish.  This would be a fantastic addition to any Thanksgiving table.
For this recipe, I am using the "quick" method.  By that I mean…just buy a frozen pie shell. While a homemade crust is nice, I sometimes just do not have the time.  Preheat the oven to 350 degrees, and use a fork to poke holes in the bottom of the crust.  Bake for about 8 to 10 minutes to brown crust. Remove from the oven and cool.
Slice five to six tomatoes and place them in a colander. Salt lightly, and let the juices drain from the tomatoes, blot with a paper towel place the slices in the browned crust.
Add chopped green onions and chopped basil on top of the tomatoes.
Mix together 1/2 cup mayonnaise, 1/2 cup shredded cheddar cheese, and 1/2 cup shredded mozzarella cheese,
Place mixture on top of the tomatoes, basil, and onions.
Bake at 350 degrees for about 30 to 45 minutes. Slice and enjoy as a perfect side dish!
Ingredients
Approximately 4 to 6 tomatoes, sliced. (Smaller varieties work better, but any can be used, if drained well)
1/2 teaspoon salt
3/4 to 1 cup fresh basil leaves, chopped. (Substitute 2 tablespoons dried basil if fresh is not available)
1/2 cup chopped green onion
1 (9-inch) frozen, store bought, deep dish pie shell (Or, use your own pie crust recipe)
1/2 cup shredded mozzarella cheese
1/2 cup shredded cheddar cheese
1/2 to 3/4 cup mayonnaise
Some Parmesan Cheese for sprinkling on the top.
Salt and pepper, to taste
Instructions
Preheat oven to 350 degrees F. Use a fork to poke holes in the bottom of the pie crust and brown for about 8 to 10 minutes.
Place the sliced tomatoes in a colander in the sink or over a large bowl.  Sprinkle all with 1/2 teaspoon of salt and allow to drain for around a half hour. Use a paper towel soak up any extra moisture from the tomatoes and make sure most of the excess juice is out. This is important!
Layer the tomato slices, basil, and onion in pie shell. Season with salt and pepper. Combine the grated cheeses and mayonnaise together in a small bowl. Spread mixture on top of the tomatoes. If desired, sprinkle Parmesan cheese on top.
Bake for 30 to 45 minutes, until bubbly. Cool, then slice and serve.
---
Check It Out!
---
Quick Tips
by Laurie Calloway
Apple Bread
The original recipe does not call for any spices, but I think they make the bread better.  You could use cinnamon, ground cloves, or a bit of nutmeg. I like apple pie spice because it is a nice blend.
This is not an overly sweet bread, so if you would like your bread to be sweeter, add an additional 1/4 cup brown or granulated sugar.
Make sure you sift the dry ingredients…the flour, baking soda, baking powder, salt, and spices if using, together. It does make a difference.
Any type of apple is fine, but the tartness of the Granny Smith apple adds a nice flavor.
Tomato Pie
Many people prefer to use their own pie crust recipe instead of the prepared frozen ones from the grocery store.
Just remember to pre bake it using pie weights, beans, or poking holes with a fork in the bottom of it, before adding the tomatoes.
Even if you are in a hurry, your pie will be much more palatable if you allow the sliced tomatoes to drain. The salt is not necessary, but helps the draining process.
If the edges of the crust start to get too brown before the pie is completely baked, cover the top of the pie with foil, and continue baking.
Feel free to add cooked, crumbled bacon, chopped mushrooms, or chopped peppers to the tomatoes before placing the cheese mixture on top.
---
---
Bibliography:
American International Encyclopedic Cookbook, copyright 1972
http://www.gimmesomeoven.com/slow-cooker-butternut-squash-soup-recipe/
http://www.uhc.com/bmtn-categories/bmtn-news/2015/10/16/infographic-fall-harvest-soup-recipes
https://www.fix.com/assets/content/15704/harvest-pumpkin.png
https://www.fix.com/assets/content/15704/barley-vegetable.png
---
Let us know your thoughts on today's issue.
---